Red Herring Asia 2008 will take place on Dec. 2-3, 2008, at the JW Marriott in Hong Kong, China.

Hotel Info


JW Marriott
Pacific Place, 88 Queensway
Hong Kong SAR, China
Phone: 852 28108366
Fax: 852 28450737
Sales: 852 28413838
Toll-free: 800 968 328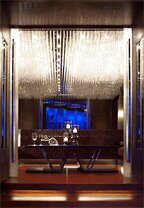 Logistic Contact


For more information please contact Yvonne Caprini at

Things to do in the local area


Get the View from Peak Tower





Officially named Victoria Peak, the Peak is a pristine mountain offering what many consider the best city view on the world. Hong Kong's beautiful cityscape can be seen in all of its wonder from the top of the Peak. With views of the city and the sea, the Peak is one of the finest man made developments. The Peak Tower is an eye-catching complex with a viewing platform on top. The Peak Tram will take you right into the heart of this tower. If you go, visit on a clear day or at night when the bright lights of Hong Kong highlight its cosmopolitan glamour.  

Visit a City Temple





With Confucianism, Taoism and Buddhism existing as major religions in Hong Kong, worship is commonplace; temples dedicated to the deities can usually be visited from early morning to early evening. Temples don't have services and worship is in personal prayer and offerings. Etiquette urges you to cover your arms and legs before entering, though this is sometimes bypassed if Hong Kong is experiencing extreme heat. Picture taking is recommended only if you have permission and particularly if you are planning to photograph a worshipper.

Try Tai Chi





Tai Chi is more than a good form of exercise; it's also a way to relax, regain a sense of life balance, and unwind from stress. Its series of fluid movements are intended to maintain the body's Yin and Yang balance and are not difficult or strenuous, making it a popular activity for tourists. The Hong Kong Tourism Board offers free Tai Chi classes for beginners, four days a week, with a trained Tai Chi practitioner. Even better, the classes take place at two of Hong Kong's premiere locations: the Avenue of the Stars, with views of the Hong Kong Island skyline; and The Peak Tower Rooftop, where you'll take in stunning views of the city below. You must book a lesson in advance. For more information, please call the Hong Kong Tourism Hotline, +852 2508 1234.

Take the Hong Kong Island Tour





The Hong Kong Island tour is ideal for first-time visitors and for those with limited time. This tour will take you to the Peak (widely considered Hong Kong's most popular tourist attraction), before moving along to Aberdeen to visit the traditional seaside village, and finally ending up in bustling Stanley Market, a place to buy your souvenirs.

Hike in Hong Kong



Explore Hong Kong's beautiful countryside by hiking the rural (and easily accessible) areas. You'll be treated to a variety of scenery, from lush valleys to rugged peaks, bamboo forests, and even secluded beaches. The mountains and countryside are stunning and preserved to near perfection.